Day Four: Friday October 28
We finally got the Targa Twins back into action today: the "virtual Porridge" MX5 was raring to go at the 06:35 briefing, carrying a battered hubcap from Katrin, so both cars were there in spirit. First stage of the day was a stunning blast over the Ruahine ranges, between Ashurst and Woodville, right through the middle of a recently built wind farm. We ducked and dived between the pillars of the huge wind turbines, going from the cool, misty west side of the ranges to the brilliant early morning sunshine on the east side.
After a brief stop in Woodville we cruised through to the Pongaroa stages. Sarah decided she didn't enjoy being hurtled about before breakfast, so she handed the co-driver's seat over to Ken and took the van to Eketahuna in search of a bacon buttie. Hence Mark and Ken blasted through the Pongaroa stages, the first of which was a lovely quick run following the mid-field pace car. The second Pongaroa stage was suffering from a recent storm, so we were quite slow as we swerved fallen rocks and road washouts, and numerous unmarked sections of gravel. The last stage before lunch was a fairly quick blast into Eketahuna, during which we thoroughly enjoyed listening to the glorious V8 rumble of the Falcon 351 GT Coupe behind us.
After lunch Sarah elected to leave Ken in the co-driver's seat for our last stage of the day. This was a tight, twisty loop near Dannevirke, all 2nd and 3rd gear corners in the high-revving MX5. We followed a lovely old Lotus Cortina through the stage, driven by a local who knew the road very well which made our job much easier and all the more enjoyable.
For the rest of the afternoon we adopted a more sedate pace, partaking in a wine tour through a number of Hawkes Bay vineyards. We tried quite a few varieties and vintages while chatting to other Targa Tour members, and all had a thoroughly enjoyable time. The combination of an early start, much fast driving, an open-topped car in glorious sunshine and quite a bit of wine left us somewhat tired. Consequently we retired to our Hastings hotel for a couple of hours to freshen up, before heading out to the Black Barn vineyard for a big Targa function in the evening.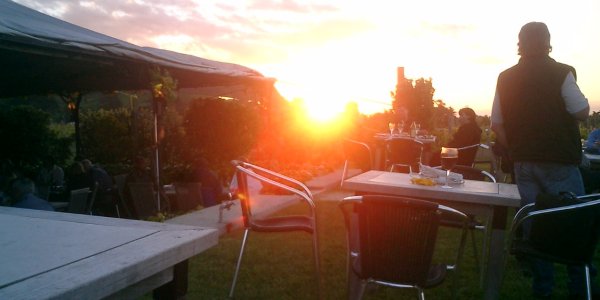 Neven and Margaret joined us for the function too, as Neven had been discharged from New Plymouth hospital earlier in the day then flew across to Hastings. Lawrence had also been discharged today. He called to let us know that he and his dad had flown safely back to Auckland to recuperate from the concussion and broken wrist.