Day Zero: Monday October 24
The day started relatively gently with a 10:00 briefing at Papakura, then at 11:00 the 20-strong Targa Tour field headed out in convoy for our first touring section, out to Waiuku in preparation for our first special stage. Both the Twins lined up at the slower end of the convoy, as the organisers attempt to seed the cars so quicker ones aren't held up behind slower cars in the stage. With some trepedation we lined up for stage one, the culmination of many months planning about to be put to the test...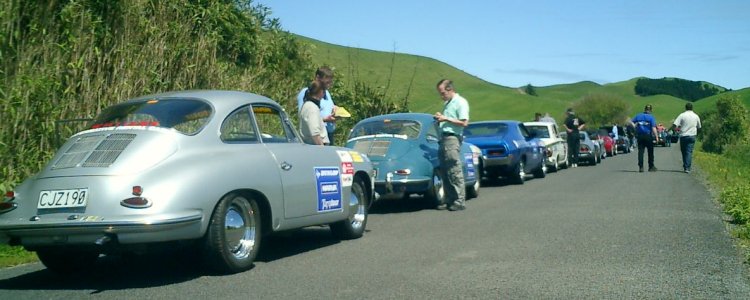 The stage was superb: a very tight, twisty run through spectacular scenery in perfect weather. Both cars behaved well, and we found the pace wasn't too fast for us, as although under-powered the Twins were ideal for throwing around the tight roads, chasing some much newer and quicker cars.
After the first stage we stopped in Waiuku for lunch, catching up with friends and family who had come out to support us, and giving us time to see some of the nearly 200 cars in the competitive classes. Once fed and watered we were on the road again, touring to Pukekohe circuit ready for our second special stage.
During the formation lap for the track run Porridge had a disaster, over-fuelling one carburettor then back-firing and setting it alight. Mark and Sarah stopped in the pit entry and found flames bellowing out from the engine cover, so quickly put the extinguisher to good use to put it out. The fire damage was limited to one side of the engine, so quick work with the extinguisher had prevented a more serious burnout.
While Lawrence was enjoying his laps of the track, Mark and Sarah went looking for help. When at Pukekohe the Williams clan are never far away, so we greatfully received assistance from the family and several fellow Porsche owners. The left hand Solex carbs were comprehensively burnt, so we hauled Porridge onto a trailer and headed back to Auckland. With further assistance we located a pair of "new" carbs from fellow 356 owner Steve Neville. Steve also provided advice and a bundle of other parts in case we have further problems...
After a long night learning about carb rebuilds, we had Porridge kitted out and running, but in need of tuning by the guys at Qualitat, which can hopefully happen tomorrow morning.