Day Three: Thursday October 27
Today's Targa action got underway with no Targa Twin representation, but we were not forgotten. The morning driver briefing included an update on the status of Lawrence and Neven's recovery, and all the drivers sent their best wishes to the crew.
We all spent the morning at New Plymouth Hospital, where the guys were receiving the best possible care and attention. By midday we had determined that both should be ready for release tomorrow, so it was time to make plans for the next phase. Lawrence and Graham have a flight arranged to Auckland tomorrow afternoon, while Neven and Margaret decided to fly across to Hastings on Friday afternoon in order to join the end of the Targa. With those arrangements sorted, Mark, Sarah and Ken got back on the road to Feilding, to finally catch up with the rest of the Targa teams. The final stage of the day was at the Manfeild circuit, and we arrived just in time to see the fastest cars running around before heading to Feilding town centre for a display and social evening. We also got the MX5 prepared to run, adding the Targa stickers and undergoing scrutineering.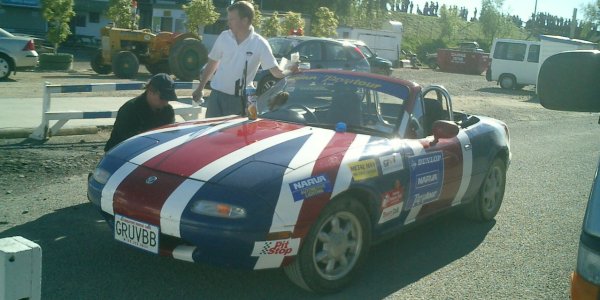 Although both the Targa Twins have retired they will continue in spirit, and we recovered a somewhat battered hub cap from one of Lawrence's wheels, which will be carried in the MX5 in tribute to Katrin and Porridge.